The type of treatment you and your dermatologist decide to try depends on your skin condition, how long you've had your stretch marks, and your willingness to have multiple treatments. Some of the most effective treatments are Laser or light therapy, Microneedling, and Retinoids. Make an appointment in the Dermatology clinic in NYC today to experience highly personalized and comprehensive New York dermatology care. Get the treatments you need in the safe, reassuring hands of the best-in-class dermatologist in NYC.
Stretch Marks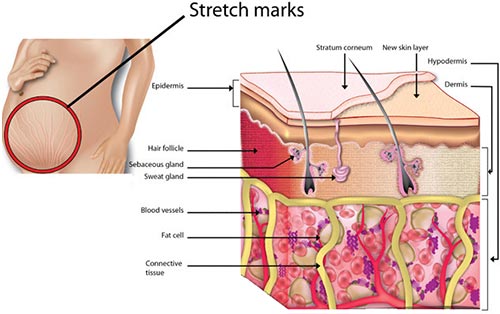 When your skin gets stretched beyond its normal limits, you may develop stretch marks, also known as striae. Though they may seem unsightly, stretch marks are not medically harmful, and they don't result in any pain. The most commonly appear on your abdomen, buttocks, hips, and breasts. The indented streaks across your skin will fade eventually, although not as quickly as you may hope. And even with treatment, stretch marks can't completely be removed. Instead, most of the dermatology or cosmetic treatments for stretch marks done by your NYC dermatologist only reduce the severity of their appearance.
Causes and Risks
Routine annual exams, including a thorough physical, can detect potential health problems and deal with them before they develop further or worsen. Again, stretch marks are caused by the fat gain that causes your skin to stretch. Pregnant women are almost all at risk for developing stretch marks. But your skin is made to handle the excess stretching to accommodate your baby, even though you may not be thrilled with the look.
Skin tissue is made up of a protein called collagen. When that connective tissue becomes disrupted by excessive stretching, scars called stretch marks might appear. How severe the indentations are depended on a variety of factors that include:
Genetics
Being female
Puberty growth spurts and weight gain
Gaining weight quickly
Remaining obese or overweight for a long period of time
Having breast enhancement surgery
Pregnancy, especially when you're younger
Taking corticosteroid medications
The degree of pressure placed on your skin
Having a medical condition that leads to increased cortisone, such as Cushing's syndrome
Genetic conditions with defective collagen such as Marfan's syndrome
Extreme bodybuilding
Cortisone weakens skin tissue. So when you either add the hormone to your body or develop excessive amounts, your skin becomes more at risk for getting deep stretch marks.
Various Symptoms
All stretch marks are not alike. Your NYC dermatologist sees a wide range of stretch marks. The differences are determined by how long you've had them, what's causing them, what type of skin you have, and where they're located on your body. Some of the most common variations include:
Bright streaks across your skin that fade over time
Indents that snake across your skin
Purple, black, pink, red, or blue streaks
Streaks of color across your breasts, abdomen, thighs, buttocks, or hips
When large portions of your body are covered with the streaks
The skin around your stretch marks may feel slightly different, too rougher, and more jagged.
First Step: Home Remedies
For the most part, when a weight gain is short-lived, such as when you're pregnant or quickly built up your body for a competition, the stretch marks eventually fade so that you can barely see them. Sunless tanning creams sometimes may be helpful to cover up the marks if you are self-conscious and they're in a spot on your body that's visible, such as on your thighs when you wear shorts in the summer.
Tanning booths or any UV tanning won't make your stretch marks disappear. In fact, tanning often makes them more distinct because the striae don't tan to the same degree as the rest of your skin. Before making an appointment with your New York dermatologist, your best option is to cover them up with longer shorts and cover-ups on the beach. While you may find a plethora of so-called "miracle stretch mark removers" online or over the counter in the drug stores, for the most part, they don't work and won't help reduce the appearance of stretch marks.
"

"

★ ★ ★ ★ ★

Dr. Bard is intelligent and knowledgeable. She makes me feel comfortable, and I am confident of her diagnosis and treatment. She is highly skilled and has had great results.
When to See a Manhattan Dermatologist
When you get tired of looking at your stretch marks or if, over time, they don't seem to be fading to your satisfaction, your NYC dermatologist can help. Before beginning any treatment, your dermatologist may check your bloodwork, especially if there isn't any other definitive reason for your stretch marks. Test results, combined with a medical history, should allow your doctor to proceed with various options to rid you of the unsightly lines.
Treatments Available
The type of treatment you and your NYC dermatologist decide to try depends on a variety of factors, including how much you're willing to pay. Insurance doesn't cover stretch mark removal because it's considered a cosmetic procedure. Other considerations include:
What condition your skin is in
How willing you are to return for multiple treatments
How long you've had your stretch marks
What kind of expectations do you have
While you do have options, there's no guarantee that any treatment will be 100 percent effective. And no treatment has a track record of removing stretch marks altogether. Of the various treatments your dermatologist may offer you, some of the most effective includes:
Laser or light therapy: The technologies behind various laser and light therapy treatments are based on collagen and elastin stimulation provided by the impulses. While these treatments are painless and take only minutes to do in your doctor's office, you may have to return for multiple treatments before seeing any results.
Microneedling: Cosmetologists may offer this service, but to reduce your risk of infection and poor delivery, you should rely on an experienced dermatologist in New York to perform this procedure. It's designed to create micro-trauma in the skin and boost collagen production to replace the skin with healthier, new tissue.
Retinoids: Creams and lotions containing retinoid derivatives of Vitamin A work best on stretch mark no older than just a couple of months. Tretinoin is one of the most commonly used retinoids, and you rub it on your skin. The cream is also designed to promote collagen production, resulting in changes in your skin's appearance. Don't try any over-the-counter or retinoid-based stretch mark removers while you're pregnant. Side effects may harm your fetus. Talk to your dermatologist in NYC about other options that are safe for both you and your baby.
  Important Reminder: This information is only intended to provide guidance, not definitive medical advice. Please consult dermatologist NYC about your specific condition. Only a trained, experienced board-certified dermatology doctor or pediatric dermatologist can determine an accurate diagnosis and proper treatment.
Do you have any questions about Stretch Marks? Would you like to schedule an appointment with an internationally recognized, award-winning dermatologist in Midtown NYC, Dr. Susan Bard of Manhattan Dermatology? Please contact our Midtown or Upper East Side NYC clinic for consultation with cosmetic and laser dermatologists.
Manhattan Dermatology Locations:
Manhattan Dermatology

(Upper East Side)
983 Park Ave, Ste 1D1, NY 10028


(212) 427-8750
Manhattan Dermatology

(Midtown)
51 East 25th Street Ste 411, NY 10010


(212) 889-2402
Manhattan Dermatology

(Union Square)
55 W 17th St Ste 103, NY 10011


(212) 378-9984