Dermatology located in Midtown, Manhattan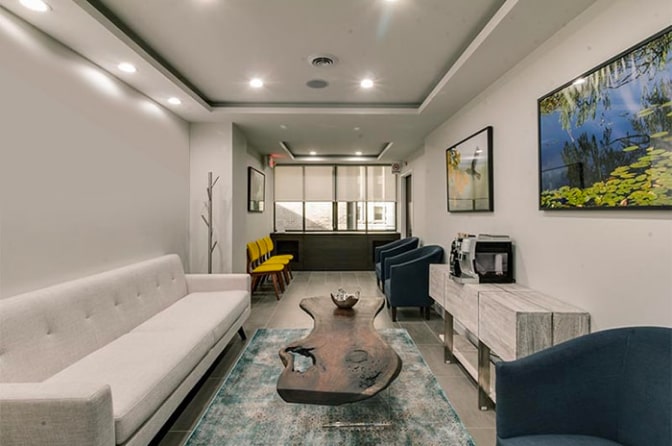 At Manhattan Dermatology, located in Midtown, Manhattan, we offer the state of the art Dermatology Care and Cosmetic Procedures. Through our integrative approach, we pride ourselves on spending the time necessary to analyze and treat difficult health disorders that can often be overlooked in today's fast-paced healthcare environment.
Map to Dermatology Midtown Location
Patients visit our Dermatology practice in Midtown, Manhattan from all over New York, and other states, but we are located within walking distance from Kips Bay, Murray Hill, Gramercy Park, and Koreatown.
"

"

★ ★ ★ ★ ★

Dr. Bard is very knowledgeable and helpful. She was able to identify all the issues right away and recommend treatment.
By Public Transportation (Train)
By Public Transportation (Bus)
An overnight stay in Midtown, Manhattan
Manhattan Dermatology is looking forward to meeting you at our office in Midtown, Manhattan on 56 W 45th Street. If you are visiting our advanced Health care clinic for procedures that require an overnight stay, you will be able to enjoy the largest business district in the world, which ranks among the most expensive pieces of real estate. Keep in mind that Midtown, Manhattan is the country's largest commercial, entertainment and media center and also a growing financial center.
Midtown, Manhattan is the central portion of the New York City borough of Manhattan. It is home to the city's most prominent buildings, including the Empire State Building, the Hudson Yards Redevelopment Project, the Chrysler Building, and the headquarters of the United Nations. Whether you visit the tallest hotels and skyscrapers, the Empire State Building, or Union Square Park, you will definitely find something that you love in Midtown, Manhattan.
Manhattan Dermatology Locations:
Manhattan Dermatology

(Upper East Side)
983 Park Ave, Ste 1D1, NY 10028


(212) 427-8750
Manhattan Dermatology

(Midtown)
56 W 45th St, Ste 819, NY 10036


(212) 889-2402
Manhattan Dermatology

(Union Square)
55 W 17th St, Ste 103, NY 10011


(212) 378-9984