Body contouring procedures remove excess fat and skin from your body. Of all the procedures for shaping your body, liposuction is probably the best known in Manhattan. But at our Dermatology NYC, you have non-surgical body contouring options, too. Laser body contouring uses a minimally invasive technique to remove fat that is resistant to diet and exercise. Get in shape fast in the safe, reassuring hands of the best dermatologist NYC Dr. Bard of Manhattan Dermatology.
Body Contouring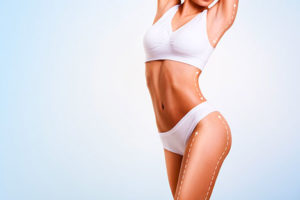 Body contouring helps remove stubborn pockets of excess fat and sculpt the figure. Body contouring isn't for everyone. It's the last step in achieving a perfect body shape, so you already have to be in good health and not terribly overweight. Non-surgical body contouring is available for men and women who have pockets of fat even after following strict diet and exercise routines. It's actually very common; these areas of fat are often hereditary and almost impossible to eliminate. In NYC, the most innovative and least invasive technique to eradicate fat is laser body contouring. This treatment requires no incisions, and recovery is much easier than from surgery.
Body Contouring Options
Men and women retain body fat in different places. Women commonly accumulate fat on the abdomen and outer hips. Men usually have an excess fat form on their abdomens and lower backs. Women are also affected by cellulite, a skin dimpling condition that can appear no matter what kind of life you lead. No exercise routine eliminates cellulite. The production of estrogen causes it.
But for New York-area men and women who wish to upgrade their bodies, non-surgical body contouring is an effective and minimally invasive procedure. As body contouring becomes increasingly popular, four different technologies have emerged:
Cryolipolysis (also known as Coolsculpting)
Infrared light source (laser)
Radiofrequency
Ultrasound
All of these technologies are FDA-approved. All are non-invasive. They're available in dermatology offices all over the United States, so of course, Manhattan Dermatology Specialists offer them too.
The Science Behind Body Contouring
Body contouring procedures work because you only have a set number of fat cells. Once some are removed, you have fewer of them, which allows you to maintain your shape more easily. While true, it's also possible that the remaining fat cells can grow larger to compensate if you don't continue to exercise and eat a healthy diet.
Laser body contouring is a non-surgical procedure that leads to fat cell destruction. When the device is applied to your body:
A laser or radiofrequency penetrates targeted fat cells.
The device liquefies those cells, leaving surrounding cells unaffected.
The fat is released into your bloodstream, where it's processed as waste.
The fat cells shrink and deflate like a balloon losing its air.
The Non-Surgical Body Contouring Procedure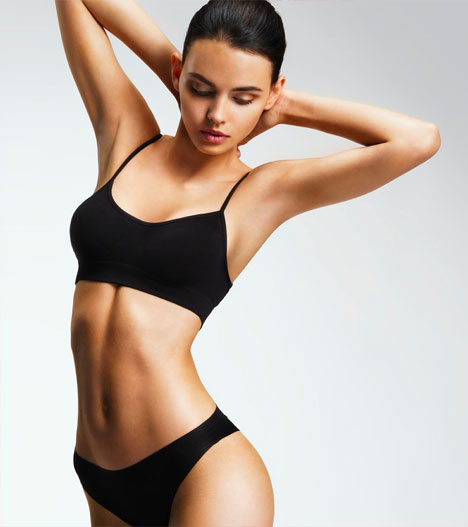 Drink plenty of water before your procedure, throughout the day of your appointment, and after the treatment. Refrain from eating anything for about two hours before the procedure. After you arrive at Manhattan Dermatology Specialists for your appointment:
Undress to your underwear.
The device does its work safely and painlessly. During the procedure, your fat cells are emptied, not removed.
Each session takes 20 to 60 minutes, depending on the areas treated.
"

"

★ ★ ★ ★ ★

Highly recommend visiting and get checked out. The process was smooth, and the doctor has a lot of knowledge on the subject.
Laser Body Contouring Aftercare
Once your session ends, you may return immediately to your normal daily activities. Any mild discomfort you felt during the procedure abates within a few hours. Your New York City dermatologist may recommend that you do some minimal exercises afterward to speed up the fat-burning process. Just remember to stay hydrated.
To maintain your results, a healthy lifestyle is necessary. This procedure works best when partnered with moderate exercise and a balanced diet. Multiple sessions, spaced about several weeks apart, are part of a complete treatment plan.
Non-invasive body contouring is safe, painless, and has minimal to no downtime.
Ideal Candidates for Body Contouring
Laser body contouring can help men and women with many different body types, but the ideal candidate has:
Already committed to making healthy lifestyle changes
Maintained good health
Stubborn problem areas, especially in the hips, waist, or thighs
Body contouring surgery and non-surgical options work best if you're interested in slimming and shaping your body in ways that exercise and diet cannot. The procedures won't help if you carry a lot of excess weight. Body contouring shapes your body by targeting pesky fat cells. It's not a solution for obesity. To avoid complications, bring your concerns to your NYC cosmetic dermatologist before receiving any body contouring treatments.
The Cost of Non-Surgical Body Contouring
Laser body contouring is conveniently performed in the comfort of your Manhattan dermatologist's office, so there are no hospital fees to worry about. And the cost of non-invasive body contouring is significantly less than body contouring surgery. The actual cost may vary, depending on factors such as:
The number of areas to be targeted
The size of the areas to be treated
The number of sessions required
Keep in mind that, like body contouring surgery, non-invasive treatments are elective procedures and are not likely to be covered by your health insurance. The fewer areas you need to be treated, the less expensive it will be. Consult your New York dermatologist for more information on your procedure's specific cost and set up a personalized treatment plan.
Important Reminder: This information is only intended to provide guidance, not definitive medical advice. Please consult dermatologist NYC about your specific condition. Only a trained, experienced board-certified dermatology doctor or pediatric dermatologist can determine an accurate diagnosis and proper treatment.
Do you have any questions about Body Contouring? Would you like to schedule an appointment with an internationally recognized one of the best dermatologists in New York, Dr. Susan Bard of Manhattan Dermatology? Please contact our Midtown NYC or Upper East Side NYC dermatology clinic for consultation with the top Body Contouring specialist.
Manhattan Dermatology Locations:
Manhattan Dermatology

(Upper East Side)
983 Park Ave, Ste 1D1, NY 10028


(212) 427-8750
Manhattan Dermatology

(Midtown)
51 East 25th Street Ste 411, NY 10010


(212) 889-2402
Manhattan Dermatology

(Union Square)
55 W 17th St Ste 103, NY 10011


(212) 378-9984