DISCLAIMER: PLEASE READ CAREFULLY ON BOTTOM OF THE PAGE
Cortisone Shots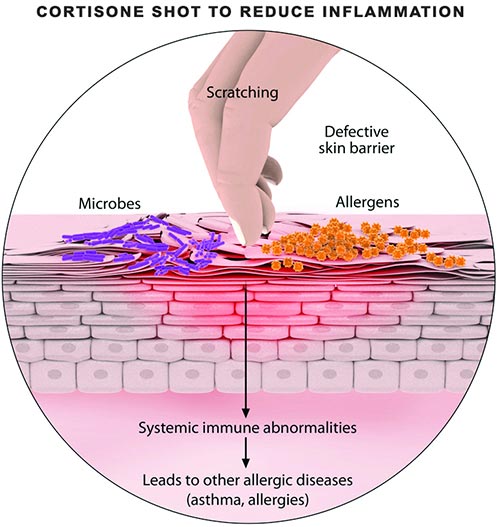 If you're suffering severe pain and inflammation, your New York dermatologist may recommend a cortisone shot. A cortisone shot is an injection that reduces swelling and pain in a specific part of your body. Most commonly, cortisone shots are administered to your joints, including your:
Elbow
Ankle
Hip
Knee
Wrist
Shoulder
Spine
Your dermatology doctor in NYC may even inject cortisone into the smaller joints of your fingers and toes. Cortisone is often an effective measure to ease pain and swelling. You may only need one shot or you may require a series of shots over time.
All symptoms, potential procedural/surgical options should always be discussed with your physician after a thorough consultation and examination  for an accurate diagnosis and treatment plan.
What's in a Cortisone Shot?
Cortisone shots are made up of a combination of local anesthetic and corticosteroid medicine. You can receive a cortisone injection at your doctor's office. The types of side effects that commonly are associated with cortisone shots (see below) may limit the number of shots you can receive.
Cortisone contains a steroid that's often used to treat problems in your hand or your arm. The painful conditions that cortisone shots can ease in your hand, arm and shoulder include:
Tendonitis
Trigger finger
Carpal tunnel syndrome
Rotator cuff issues
Tennis elbow
Don't be concerned about the dangers of steroids — because of the consequences that weightlifters experience. Cortisone is a different type of steroid. Weightlifters abuse anabolic steroids to enhance their performance and build muscle quickly. Cortisone, on the other hand, is naturally produced in your body and is a strong anti-inflammatory. These good steroids are known to thin, shrink and slow functions where they are injected.
Other Uses of Cortisone Shots
If you're suffering with inflammatory or rheumatoid arthritis, your Manhattan dermatologist may suggest cortisone shots to reduce your pain and inflammation. Cortisone shots may also treat other conditions, such as:
Gout
Bursitis
Plantar fasciitis
Rheumatoid arthritis
Reactive arthritis
Tendinitis
Preparation for Your Cortisone Shot
After your doctor diagnoses your condition, the first questions he'll ask you are about the medicines you're taking, as well as your general health and history. If you have a condition that requires blood thinners, for example, your NYC skin doctor may recommend that you stop taking them for several days to a week before you receive a cortisone shot.
The reason for this is to minimize the risk of excessive bleeding during or after your shot. It may be difficult to get your blood to clot after the shot, which effects your healing time and how the puncture mark is dressed and bandaged. Also, blood thinners can make you bruise easier. If you're on blood thinners, the cortisone injection can create bruising around the affected area.
If you receive a cortisone shot at your local doctor's office, your New York City dermatologist may ask you to change into a gown so that you can be more comfortable, and so your doctor can more easily access affected areas. Your doctor then cleans the area of the injection site. The physician may spray you with an antiseptic to numb the injection site.
Getting a Cortisone Shot
If your condition is deep within a joint, the dermatologist may observe the entire procedure through an ultrasound or fluoroscope monitor to guide the needle into the correct location. You may feel a little sting and some discomfort when the needle punctures your skin, but the treatment usually just takes five or ten minutes.
Once the needle is in the correct spot, your Manhattan dermatologist releases the cortisone medication into the injection site. The anesthetic in the shot helps relieve pain immediately, while the corticosteroid medicine acts to reduce inflammation and pain over a longer duration.
Your cortisone shot reaches its full effectiveness within two to three days, and the benefits remain for several weeks. However, results do vary from person to person and on the condition treated. You may have a condition that's solved by one injection, while other conditions may require several injections.
If you have already had cortisone shots before, you may be concerned about the danger of receiving multiple shots. Your dermatologist in NYC typically limits the number of cortisone injections into your joints to one every six weeks and not more than four per year. While there isn't a maximum number of injections you can receive, your dermatologist may limit the shots you receive to these numbers. Continual cortisone exposure can damage your cartilage and tendons over time.
Recovery from Cortisone Shots
After you receive a cortisone shot, you may experience a feeling of warmth in your face and chest along with redness at the affected area. Cortisone shots may also increase blood sugar levels on a temporary basis, so make sure you inform your doctor if you have diabetes.
Following your cortisone shot, your best NYC dermatologist may recommend the following after-care treatments that you can do in your home:
Apply ice to the affected area for pain relief. Don't use heat.
Avoid heavy lifting if you received a shot in your arm or shoulder.
Stay off your feet for a day or two if you received a shot in your foot or leg.
You can shower, but avoid bathing and hot tubs for two days.
Watch for increasing pain, swelling and infection.
Contact your doctor if any of these symptoms lasts more than 48 hours.
Risks Associated with Cortisone Shots
Some potential risks that may occur with a cortisone shot include:
Nerve damage
Joint infection
Temporary flare-up of inflammation and joint pain
Thinning soft tissue and skin around the site of the injection
Osteoporosis, which is the thinning of bones near the injection site
Rupture or weakening of tendons
Osteonecrosis, which is the death of a bone near the injection site
Increase in blood sugar, a temporary condition
Skin discoloration, which usually appears as whitening around the site of the injection
Flare-ups are the most common steroid injection side effect. This is pain that you may experience a day or two after you receive the injection. Ice and rest are the best treatments for flare-ups. Allergic reactions are another potential side effect; however, these are even rarer.
All symptoms, potential procedural/surgical options should always be discussed with your physician after a thorough consultation and examination  for an accurate diagnosis and treatment plan.
Important Reminder: This information is only intended to provide guidance, not a definitive medical advice. Please consult dermatologist NYC about your specific condition. Only a trained, experienced board certified dermatology doctor or pediatric dermatologist can determine an accurate diagnosis and proper treatment.
Do you have any questions about Cortisone Shots? Would like to schedule an appointment with an internationally recognized, award winning, best NYC dermatology specialist, Dr. James Taft of Manhattan Dermatology Specialists, please contact our Midtown NYC office for consultation with cosmetic and laser dermatologist.
Manhattan Dermatology Specialists
Dr. James Taft (Laser Cosmetic Dermatology of NY)
51 East 25th Street, Ste 411
New York, NY 10010
(Between Madison Ave & Park Ave)
☎ (212) 889-2402
DISCLAIMER: PLEASE READ CAREFULLY
The information on this website is to provide general guidance. In no way does any of the information provided reflect definitive medical advice and self diagnoses should not be made based on information obtained online. It is important to consult a best in class dermatologist regarding
ANY and ALL
symptoms or signs as it may a sign of a serious illness or condition. A
thorough consultation
and examination should
ALWAYS
be performed for an accurate diagnosis and treatment plan. Be sure to call a physician or call our office today and schedule a consultation.