Dr. Khodadadian is board certified in Internal Medicine and Clinical Nutrition.  He serves as the Director of Clinical Nutrition at Lenox Hill Hospital and he is a clinical instructor at NYU Medical Center.  He has been voted by his peers as a Castle Connolly Top Doctor as well as  New York Super Doctors and NY Magazine Best Doctors in 2016.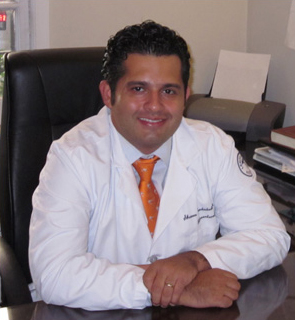 Dr. Shawn Khodadadian
Dr. Khodadadian is currently in internal medicine at Manhattan Dermatology at Manhattan Dermatology, we believe that a multidisciplinary approach is the optimal way to diagnose and treat patients. When appropriate, thorough evaluation by an internist can be a very important component of overall health evaluation to rule out any systemic causes of manifestations in any organ systems including the evaluation of the skin.
Often times, subtle aspects when not addressed fully can lead to delays or inadequate diagnosis in today's healthcare environment.  We pride ourselves on spending the time necessary to give the quality of care that our patient's deserve.
After acceptance to the highly selective accelerated seven-year B.S./M.D. program, Dr. Shawn Khodadadian graduated Summa Cum Laude from the Sophie Davis School of Biomedical Education/City University of New York Medical School with his Bachelor's Degree in Biomedicine. He then received his M.D. at the State University of New York's Stony Brook School of Medicine where he graduated in the top 2% of his class.
Dr. Khodadadian received the prestigious Merck Award and was inducted to Alpha Omega Alpha, the national medical honor society for all U.S. Medical Schools.
"I am friendly, approachable and strongly believe in placing patients at the center of the decision-making process as long as they have been fully informed of all their options. I want each of my patients to experience individualized care and to feel comfortable expressing how they feel to me. I do all I can to make them feel at ease. I care for patients. Patient education and self management strategies are at the heart of what I do." ~ Dr. Shawn Khodadadian
As a best in class NYC internist, Dr. Shawn Khodadadian working side by side with leading NYC dermatologists including a book author Dr. Bard and provides highly personalized and comprehensive care. Dr. Khodadadian philosophy regarding the doctor/patient relationship is based on trust and has earned him one of the most respected reputations in NYC. Both doctors are accepting patients at Manhattan Dermatology Specialists the best rated dermatology clinic in New York.
For more information or to schedule an appointment with the  best in class NYC internist (internal medicine doctor), Dr. Shawn Khodadadian, please contact our Upper East Side NYC office.